Backyard Winter Bird Survey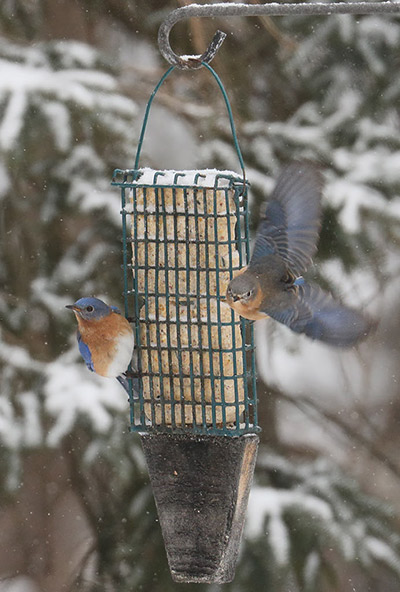 For more detailed information about the Backyard Winter Bird Survey, select pages from the menu on the right.

2018 SURVEY DATES:
February 10th and 11th.

Survey forms will be mailed in mid-January 2018.
---
Backyard Winter Bird Survey participants report any bird species visiting their yard and/or feeders in New Hampshire on the second weekend of February. Originally begun as a "Cardinal-Tufted Titmouse Census," it was expanded in 1987 to gather information on the distribution and abundance of many winter species in New Hampshire.
When to Watch – The 10th and 11th of February only. Watch and count the birds in your yard at any time during the weekend.
How long should I watch? – Watch as little or as long as you wish during the survey weekend. Be sure to record the total number of hours you observed. Approximate as closely as possible. For example, if you were home all day, but only watched for five minutes every hour, your time will be 45 minutes.
Can't Participate? – Stay on the Mailing List If you cannot participate this year but would like to be included or remain on the mailing list, please return the survey form. Please fill in your name and address on the front of the form and return to the address as indicated.
What birds are "in my backyard"? – Count and record whatever birds you can see from your backyard. This means that you might have a sighting of a bird flying overhead, or swimming in the river bordering your yard. If you can see it while standing in your house or yard, you can report it. If you watch from more than one residence, please use separate forms for each single location.
How many birds to record? – Record only the maximum number of each species seen at one time. Do not add to your total each time you see a bird at the feeder. For example, at 10:00AM you see six Blue Jays, at 2:00PM you count seven, and at 5:00PM you count four, your survey total for Blue Jays is seven. Even if you did not see any birds, mark the survey card accordingly and send it in just the same.
Additional & Unusual Species – Use the blank lines to record any additional bird species observed. Write-ins are often uncommon species. If you observe an unusual bird, please include a detailed description of the bird's appearance and behavior. Photographs are always helpful. Without this documentation, unusual reports may not be included in the final tally. View the page titled "documenting unusual birds" for more information.
E-mail your Digital Photos – Email us your digital photos from the survey. Although we still appreciate a printed photo with your survey (for archival purposes), you can now e-mail us a photo of an unusual bird you saw during the survey. Send it to bwbs@nhaudubon.org. Be sure to put your name and address in your e-mail and note on your survey card that you sent a photo via email. We hope to have on-line data entry and photo submission in the future, but for now we're not ready for your survey results via e-mail. Please fill out one of the standard forms for sending in your survey. Thanks.
Birds you cannot identify – If you don't know the names of all the birds visiting your yard, you can still participate, but please record only the species you can identify.
Confusing species – Please be sure you can distinguish between similar species such as the Purple Finch and House Finch, the Chipping Sparrow and American Tree Sparrow, and the Sharp-shinned Hawk and Cooper's Hawk. A current field guide can help, and we have provided a Quick Reference Guide to help tell them apart. Note that House Finches are more common than Purple Finches. Also, please be sure to send descriptive details of any Chipping Sparrow or Cooper's Hawk sightings.
Identifying hawks – Hawks are difficult to identify and many watchers are unsure what kind they have seen. If you know you had a hawk but could not determine any identifying characteristics, please record it as "Hawk species". Sharp-shinned and Cooper's Hawks are two of the most difficult to tell apart (see the Quick Reference Guide) and if you can't decide between them, please don't guess but instead record it as "Sharp-shinned/Cooper's Hawk".
How to record squirrels – Count squirrels in the same way you count the birds, by recording only the maximum number present at your feeder at any one time. Please be sure to put down what kind they were – gray or red.
Survey results – The survey reports are computerized over the spring and summer with final interpretation in the fall. All participants receive a copy of the results with next year's forms when they are mailed in January. The results will also be posted on the web site as soon as they are compiled.
Donations – Contributions are the sole source of funding for this survey and make it possible for us to collect and analyze this valuable information. Each survey participant provides important data that supplies the information we need to determine what's happening to our winter bird populations. And your contribution is critical to making this possible.  You can enclose a donation by check (made out to NH Audubon) or credit card when you return your survey, call 603-224-9909, x310 (Membership Dept.) with your credit card, or donate online at the NH Audubon website.
How to submit your results – Click here to visit the BWBS Reporting and Forms page of this website.