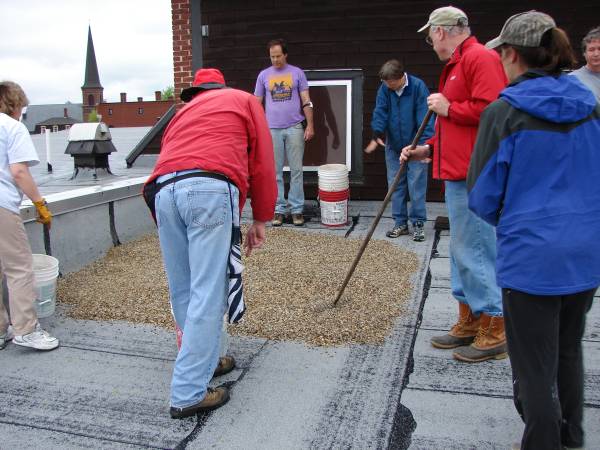 Project Nighthawk is a statewide research initiative, coordinated by New Hampshire Audubon, aimed at conserving a state-threatened bird species, the Common Nighthawk.
Data from New Hampshire and the region show that nighthawks are declining throughout their range. Most active at dusk and dawn, the "peent" call of Common Nighthawks was once a familiar sound in cities and towns throughout New Hampshire, where they nested on flat, peastone gravel roofs and fed on insects attracted to city lights (everything from mosquitoes to large moths). The reasons for their decline are not clear but one possibility is changes in roofing substrate from pea stone to rubber and PVC.
About the Project
In 2007 New Hampshire Audubon initiated Project Nighthawk to investigate the potential for restoring urban-nesting nighthawks by placing simple gravel "nest patches" on flat rooftops. Biologists chose to target Concord and Keene for testing nest patch design and success because they were the only two New Hampshire towns with nighthawks still remaining.
Project Nighthawk is a partnership. New Hampshire Audubon is leading the effort in Concord, placing patches and conducting a coordinated watch. Ashuelot Valley Environmental Observatory (AVEO) and Ken Klapper, a Master's student in Conservation Biology at Antioch University New England, are spearheading the Keene effort. If results suggest that gravel nest patches are a promising strategy, New Hampshire Audubon plans to expand these efforts to other New Hampshire cities that once supported nesting nighthawks.
How can I help?
Volunteer – help monitor the nighthawks nesting in the state.
If you install and monitor a gravel patch on your building using the Gravel Patch Handbook, then

Notify NH Audubon and become part of Project Nighthawk's patch study,
Register your site by saving this MS Word form to your computer and filling it out or by printing this PDF form and filling it out, and returning the form to Becky Suomala via

Donate – Please make a contribution to our research using the form on the Project Nighthawk Overview page or contacting one of the following.
To Donate or Volunteer
In Concord and statewide, contact Becky Suomala, Project Coordinator, NH Audubon, rsuomala@nhaudubon.org, 603-224-9909 x309.
In Keene, contact Brett Amy Thelen, AVEO, thelen@harriscenter.org, 603-358-2065, www.aveo.org.
More Information