Current Issue – Fall 2016 [Vol. 35 No. 3]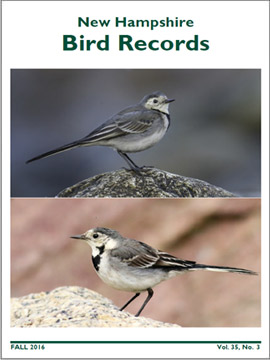 This issue of New Hampshire Bird Records with its color cover is sponsored in memory of Rob Woodward in appreciation of all he's done for birds and birders in New Hampshire.
Photos: White Wagtail by Josh Gahagan (top) who discovered the bird on 11-2-2016 at Rye Harbor SP, Rye, NH, and Steve Bennett (bottom), 11-3-2016, Hampton, NH.
Contents
Rob Woodward Tries to Leave New Hampshire Behind
Fall Season: August 1 through November 30, 2016 by Ben Griffith and Lauren Kras
Concord Nighthawk Migration Study – 2016 Update by Rob Woodward
Fall 2016 New Hampshire Raptor Migration Report by Iain MacLeod
Fall 2016 Field Notes compiled by Kathryn Frieden

Loon Freed From Fishing Line in Pittsburg by Tricia Lavallee
Osprey vs. Bald Eagle by Fran Keenan
Peregrine Patriarch in Lawrence, MA by Chris Martin
Long-eared Owl in Seabrook
Crossbill? – Not!
Two Saw-whet Owls at the McLane Center in Concord, NH by Rebecca Suomala
Injured Eastern Whip-poor-will

Field Trip Report

Adventure Birding by Dan Hubbard
Birds and Beer Wrap-Up by Paul Lacourse
The Birds and the Bees of Ponemah Bog by Phil Brown

White Wagtail Report

Discovering a White Wagtail by Josh Gahagan
A White Wagtail! by Katherine Towler
Joining in on the White Wagtail Fun by Jon Woolf

White Wagtail in Coastal New Hampshire – A First New Hampshire Record…and more by David B. Donsker
Volunteers and Research – A Plastic Diet: Is Our Plastic Addiction Ending Up in Our Seabirds? by Dr. Gabriela Bradt
Issue sponsors make color covers possible. If you're interested in sponsoring an issue, please contact Rebecca Suomala, Managing Editor.