Twitchers in the Rye – Superbowl of Birding 2018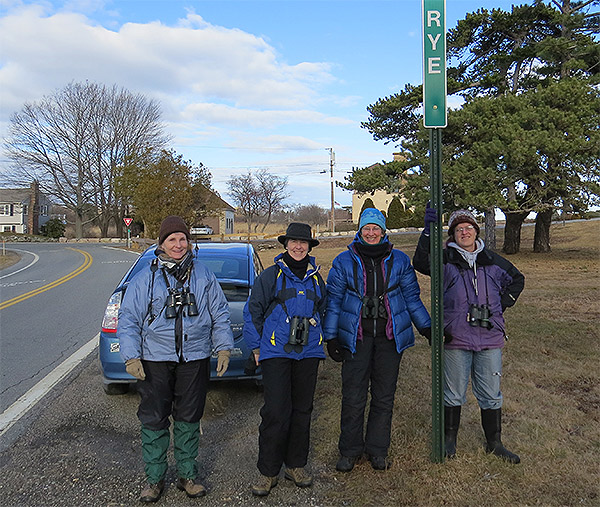 Photo: The 2017 Twitchers in the Rye (left to right): Andrea Robbins, Jeanne-Marie Maher, Becky Suomala, and captain Pam Hunt.
Each January the "Twitchers in the Rye" take part in an annual competition called the Superbowl of Birding. The "Twitchers" participate to raise money in support of New Hampshire Bird Records and NH eBird and to have fun!
The Superbowl involves looking for as many species as possible in 12 hours on the last Saturday in January and is run by Mass Audubon's Joppa Flats Education Center. Teams can compete in Essex County, MA and/or Rockingham County, NH. When the "Twitchers" formed their team they decided to restrict their search area to just one town (hence the name!), and this year, for the first time, the competition even has a single town category!
This is the team's 10th year and they are still trying to beat their first year's high count of 63 species and 112 points all in the town of Rye. This year will be especially challenging after the deep freeze in early January. The team will also be a new one, with Becky Suomala taking over as Team Captain. Help spur them on by pledging an amount per species or per point – and support the collection of bird data for conservation at the same time. (You can also donate a flat amount.). If it's as cold and windy as it has been at the start of January, the team will really appreciate knowing that each species or point builds contributions for conservation – it's great motivation to keep going!
Click here to pledge online or contact Becky Suomala at rsuomala@nhaudubon.org or 603-224-9909 x309.

Past Years' Results
To read the expanded summary, see the full list of species, or look at past years' results, click the links below.
View a chart showing the species list and points from 2009 through 2017.